Collection: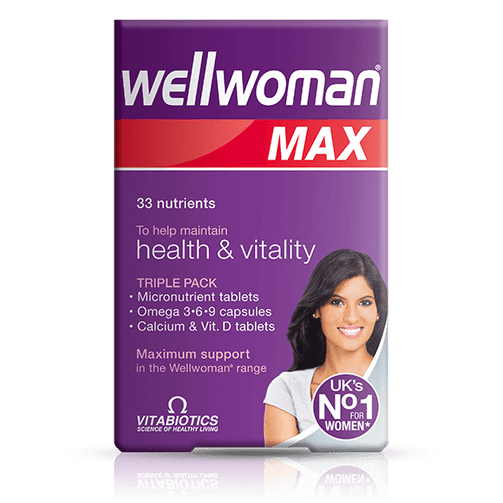 Collection:
Wellwoman Max
Wellwoman Max
Regular price

Sale price

₦10,150.00
Wellwoman Max is formulated with specific nutrients which have been specifically chosen for their role in supporting all round female health including pantothenic acid which contributes to normal mental performance. It also includes B vitamins: thiamine (vitamin B1), B6 and B12 which contribute to normal energy release, ideal for women who lead hectic lifestyles, juggling work, family and social commitments.
Zinc and iron contribute to normal cognitive function. A healthy immune system is important to good health. Vitamin D, folic acid and selenium contribute to the normal function of the immune system.
Folic acid also contributes to maternal tissue growth during pregnancy which is important if you're planning a pregnancy or there's a chance you might get pregnant. Wellwoman Max includes the exact level of Folic Acid (400mcg) recommended by the Department of Health for women who may conceive, because women of child-bearing age may need this nutritional support before they even know they are pregnant.
The formula also includes Co-Q10, Guarana and Green Tea extracts, L-Carnitine and L-Methionine.